Official Private Charter Partner of Cabot Links
Getting to Cabot HAS NEVER BEEN EASIER Simplify Your Trip to Cabot
Custom Private Flights Provided by StraightLine Private Air
StraightLine is the fastest-growing alternative to expensive private aviation programs, offering greater flexibility & convenience at dramatically lower cost.
visitors to CAbot enjoy all privileges of straightline as a guest.
Enjoy simple, easy & affordable private air charter to Cabot Links from Chicago, Boston, New York City, and Toronto (other cities available upon request). While the nearest major commercial airport is three hour drive, Port Hawkesbury's private airport is under an hour.
Our most common solution is to have your group fly into the cities listed above, where we coordinate charter flights to Port Hawkesbury.
Your group can fly in and out of one of these major "hubs" on a commercial flight and we will arrange seamless ground transportation between the commercial terminal and the FBO where your private aircraft will be ready for take off.
Sample pricing is for turboprop or light jet aircraft designed to accommodate up to 8 passengers, though groups of all sizes can be arranged upon request.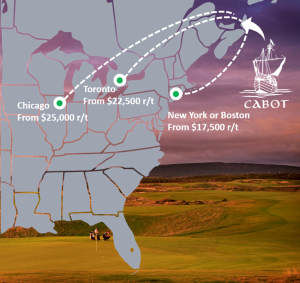 "Our experience with StraightLine was seamless from start to finish! They made sure we took the best aircraft to meet our needs without even shipping our clubs!"​
"We love taking our clients to Cabot. What's normally an eight hour travel day became a three hour travel day thanks to StraightLine. "